AAJ SCHOOLS' ART PROJECT 2018 GUIDELINES:
PURPOSE: The AAJ SCHOOLS' ART PROJECT was established to reward, showcase and celebrate the creativity of Jamaican youngsters. The competition is fully sponsored and organized by the Airports Authority of Jamaica (AAJ).
There are numerous benefits to be derived from exposing students to the visual arts. They learn to develop creative and flexible forms of thinking and acquire mental habits that they are not taught in other classes including envisioning, innovating and reflecting. They are able to stimulate and release their imagination by envisioning a world that is different from the world they know. They are open to creating new worlds.
Students that produce art for public spaces feel more connected to the community and are more likely to develop into positive members of the society. Art allows children to develop a sense of civic engagement. Excerpt of Keynote Speaker's presentation | Awards Ceremony of the inaugural AAJ Schools Art Project ACCOMPLISHED JAMAICAN ARTIST – Lady Rheima Hall
ELIGIBILITY:
Contestants must be enrolled in a local educational institution and fall into one of the categories below.
Children / CATEGORY A – 5 – 9 yrs. old
Tweens / CATEGORY B – 10 – 14 yrs. old
Young Adults / CATEGORY C – 15 – 19 yrs. old
Special Needs Young Adults & Children – 20 yrs. old and under / CATEGORY D
2018 THEMES
Choose any one:
A PORTRAIT OF MY HERO
THE IMPACT OF SINGLE-USE/ DISPOSABLE PLASTICS ON THE
MARINE ENVIRONMENT
ONE LOVE….ONE WORLD!
ORIGINALITY:
All work must be created by the student. The entry must be conceptualized, developed, and completed by the student.
GENERAL RULES:
Submit only one piece of artwork per student – on canvas, water colour paper or drawing paper (size: 30" x 30" / include one inch border).
Entries that have been electronically produced or altered in any way are not eligible. Artwork must be completely dry or fixed.
Works on paper should be matted to protect the artwork. Works on stretched canvas or canvas board do not need to be matted. Selected works will be on public display and should therefore be readable.
Three dimensional ,framed or stand-up artwork will not be accepted Student/Artist Identification tag should be typed and attached in the one inch border, lower right hand corner of the presentation.
STUDENT IDENTIFICATION TAG*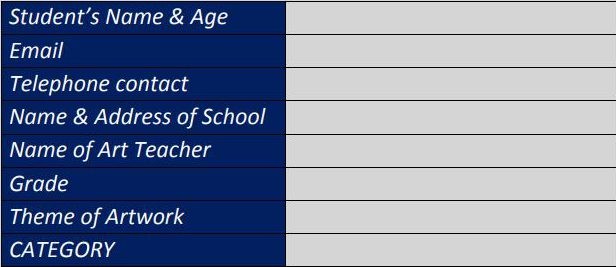 Media and Technique Requirements
Any of the following media /techniques may be used:
Paint (water color, tempera, poster, acrylic etc.)
Drawing materials (pencil, charcoal, coloured chalk, pastels, oil pastels, coloured pencils, markers, etc.)
Collage materials (cut and glued papers, such as construction paper, tissue paper, wrapping paper, aluminum foil etc.)
JUDGING CRITERIA:
Entries will be judged according to the following criteria:
Technique
The student chooses and utilizes media and tools competently to enhance the appearance of the work.
Personal Expression
The evidence of imagination, creativity and individuality. The result is distinctive and the concept and interpretation of the theme presented in a unique way that is imaginative and inventive.
Organization
The use of elements and the principles of art, effectively selecting those which enhance the overall appearance of the work.
Integration
The work combines technique, expression, and organization through artistic and critical judgment to achieve an effective interpretation or result. Each criterion is weighted equally.  Note: Judges have the right to exclude any work from consideration in the contest. The decision of the judges is final as relating to all project matters.
COPYRIGHT LAW:
Any artwork that depicts copyrighted images will be rejected. For example, no artworks depicting characters from television shows, movies, games or books will be accepted. All artworks must be original ideas and created entirely by the student. All works submitted will become the property of the Airports Authority of Jamaica and will not be returned to the student. By participating in the AAJ Schools' Art Project, the contestants grant irrevocable and perpetual permission and consent to Airports Authority of Jamaica, to edit, publish or otherwise duplicate any entry received without payment or permission from the artist.
DEADLINE FOR ENTRIES:
All entries must be received at any of the official locations (listed below) no later than 1:00pm on Friday, 16 November 2018.
Delivery / Mailing Addresses:
AAJ SCHOOLS' ART PROJECT 2018
Airports Authority of Jamaica
Administration Office
Norman Manley International Airport
Palisadoes, Kingston
Airports Authority of Jamaica Administration
Office Sunset Boulevard
Montego Bay
Delivery/ Mailing Addresses:
AAJ SCHOOLS' ART PROJECT 2018
Tinson Pen Aerodrome
Marcus Garvey Drive
Kingston
Ian Fleming International Airport
Boscobel
St. Mary
Negril Aerodrome
Norman Manley Boulevard
Hanover
NOTIFICATION OF FINALISTS:
Finalist will be selected by November 30, 2018 and notified shortly thereafter.
RECOGNITION, PRIZES & AWARDS:
Individual awards for top three ranked in each category:
Category A (age 5-9 years old)
1st Tablet + airline ticket
2nd Tablet +AAJ school bag
3rd AAJ school bag + cash scholarship valued at $10,000
Category B (age 10 -14 years old)
1st Tablet +airline ticket
2nd Tablet + AAJ school bag
3rd Smart phone + cash scholarship valued at $10,000
Category C (age 15 -19 years old)
1st Tablet + airline ticket
2nd Tablet + AAJ school bag
3rd Smart phone + cash scholarship valued at $10,000
Category D (Special Needs young adults & children / age 20 years and under)
1st Cash scholarship valued at $45,000.00
2nd Cash scholarship valued at $25,000.00
3rd Cash scholarship valued at $15,000.00
President's Cash Award for the school with the highest quantity and quality submissions in each County. AAJ Certificate of Achievement for the top 10 performers in each category (A, B, C, D).
Special selections will be installed in the illustrious hallways of the Passenger Main Terminal Building of the Norman Manley International Airport.